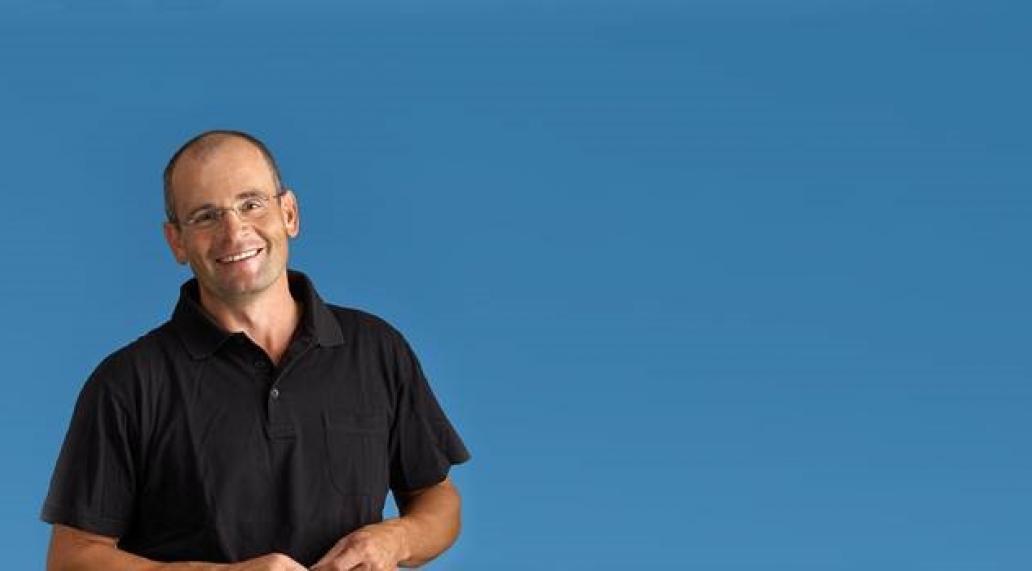 How he turns laughter into medicine
While most people lose their laughter when the topic of dementia comes up, Markus Proske takes it with humour. The dementia counsellor and humour therapist found his very own way of caring for dementia patients about 20 years ago. With a lot of humour, he wants to bring more joy into dealing with those affected and help everyone involved to enjoy the beautiful moments in addition to the many sad ones. Today, as an author and coach, he shows relatives how this can be done.
"Humour is much more than cheerfulness. Humour is an attitude to life and to dying."
For those who wonder how it can be to ridicule such a painful topic as dementia, let me tell you: for Markus Proske, humour in care is anything but a way of suppressing the difficult sides. Rather, his observation is that dementia patients actually love humour - and literally long for the humorous, balancing and benevolent handling of the situation. When you realise this, it becomes clear: the humorous encounter is extremely important and helps.
"This way of taking life is characterised by serenity instead of despair."
With that realisation in his luggage, Markus Proske directly addresses people who want to learn more about it. Because anyone who comes into contact with this topic - whether as an accompanying relative, as a carer or as a person with the disease - feels dementia to be oppressive and frightening. Soothing relief becomes all the more important. A path that offers an alternative.
"Humour triggers moments of happiness. Humour creates confidence."
It is also about giving people who are slowly losing their abilities the feeling that they can still do and move things independently. Self-efficacy is enormously important for inner balance. A humorous conversation with a twinkle in the eye, in which one gives dementia patients space and meets them in a completely non-judgemental way, is an inspiring experience and makes people happy. Laughter is then, at least for the moment, the best medicine.
A lady muses: "What can you do when your brain has holes in it? The main thing is not to forget to eat."
Proske himself is a dazzling personality with character. An inspirer, animator, listener and conversationalist. One with a heart. One who wears his mischievousness on his neck and at the same time acts with great sensitivity. Formerly a butcher in the family business, he soon found his true destiny and started working with people in old people's homes. His experiences have shown him how important the topic of humour in care really is - and how much it can help everyone involved. He created the profession "humour therapist" himself so that he could carry out exactly what he does today.
"A lady tells me that she has four children. "Two boys and a girl I have". I look at her questioningly. After a while she says, 'The last one is in prospect!'
Proske has moved and initiated a lot since then. All under the sign of the topic of humour and dementia care. His interactive dementia path with over 20 stations makes it possible for people to experience how dementia sufferers feel in their condition. In his book "Dementia Etiquette", Proske has also written down tips and rules on how to make interactions more agreeable. Furthermore, the humour therapist and dementia counsellor offers training, individual counselling and an "online travel guide" on the subject.
"With my advice, I want to actively help with dementia and show that life is still worth living even after diagnosis - for those affected and their relatives."
In the future, Markus Proske will also be on the road as a new cooperation partner of famPLUS. Interested parties can expect exciting and informative webinars and talk shows on various topics related to humour in dementia care. We are very pleased to have Markus Proske at our side, the man who is able to convey this valuable approach in such a unique way - with a lot of humour, passion and joy for those affected.
by Jana Lorenz
famPLUS - Together for your personal PLUS!
We provide individual advice on all aspects of care and provision as well as on the organisation of care in your region. You can reach us at 089/8099027-00 at any time. Our advice is available to all employees of our cooperation partners.