But how do helpers quickly obtain the relevant information about the patient if, for example, he or she is unresponsive? What illnesses does the person have, what medication is he or she taking and what else needs to be considered?
The solution is in the fridge - the famPLUS emergency box!
Since everyone has a refrigerator (which is usually in the kitchen), it can be found easily and quickly by first responders in every household. This makes first aid easier and all important information can be found right away.
Image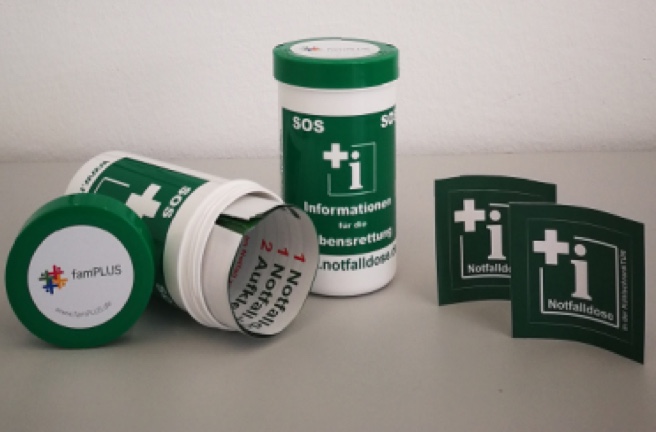 The advantages of the emergency box
Can be updated independently at any time
No need to rely on electronics
A proven system that is well known in Germany
How it works
Fill in the emergency information sheet with the current details on health condition, allergies, medication, family doctor, contact persons and other details.
A separate emergency information sheet (not a separate box) should be filled out for each person living in the household.
Several emergency info sheets can be kept in one tin
Stick a photo on the emergency info sheet if more than one person lives in the household
Place the emergency box in the refrigerator door where it can be easily seen.
Put a sticker on the outside of the fridge door
Place a sticker on the inside of the apartment/entrance door.
Make sure your current medication schedule is always with your medication. Make sure your emergency information sheet is filled in as much as possible and dated and signed before putting it in the emergency box.